---
Annalease
3 scenes - 029 movie minutes
---
Annalease is dressed in a basque and tight jeans with high heeled boots as she fastens a ball gag in her mouth and ties ropes to her thighs. She then binds her ankles to her thighs with rope before putting her delicate wrists behind her back and into cold steel handcuffs. Then as Annalease struggles to reach the key to her handcuffs her ample breasts become exposed before eventually unlocking her cuffs and freedom.
---
Annalease ties her legs wide apart to the bed corners and removes her blouse before fixing her chained arms behind her to an electro-magnet screwed to the floor. As she struggles against her chained arms her breasts are slowly revealed until the timer releases her.
---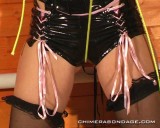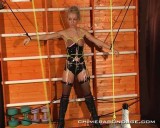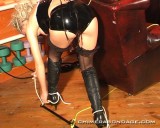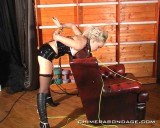 Annalease now dressed in tight black PVC corset and hot pants ties herself spread to her home gym bars with ropes around her breasts with weights pulling at her breasts and also a thin crotch rope that pushes up into her skin tight PVC covered pussy. Annalease also ties herself bent over an arm chair - displaying her tight PVC clad bottom.