Candie's full preview video:
Candie enters room and asks boyfriend to sit and watch as she has a kinky surprise for him. Candie then opens a shiny pvc box and takes out some rope, head harness, and a leather armbinder then she says to her boyfriend "I'll need help with this later". Candie then ties a crotch rope around herself and frog ties her legs. Candie puts the inflatable gag in her mouth that is part of the head harness and secures it in place then inflates the gag with slow presses of the bulb inflator before she lays face down on the floor for her boyfriend to help with the armbinder. Candie is not pleased as a leather belt is fastened around her waist and armbinder to secure her arms to her body before she is left to struggle for her boyfriend's entertainment. After Candie struggles hard with no possibility of escape her boyfriend loosens the armbinder. After she frees herself Candie stands and slowly pulls the front zip of her catsuit down exposing rivulets of sweat running down between her gorgeous breasts from the exertion of her escape, then she smiles a naughty smile and beckon her boyfriend to come to her.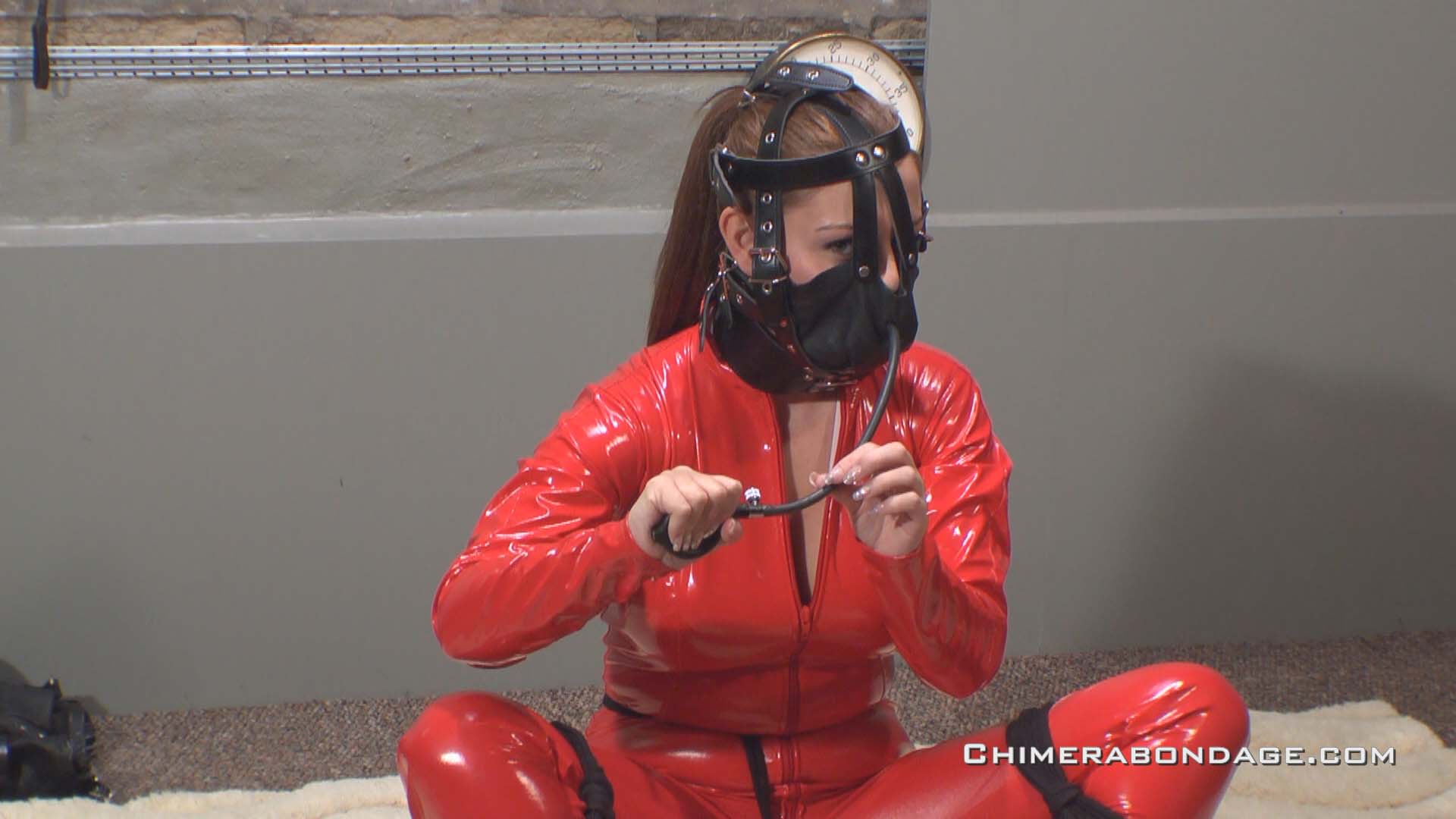 Candie is reading her instructions that she received from 'The Agency' for her first selfbondage dare. Candie decided to wear a collar with a small bell attached to the front, a black bra, white cotton shirt, a black tight latex skirt and both stockings and pantyhose now fastens a ball gag in her mouth then handcuffs her hands behind her back and leaves the room and into her garden. Candie walks across the garden, constantly checking she can not be seen until she reaches where there is a camera and a second note. Candie reads the note and walks over to a shallow pool of water with the key to her handcuffs placed in the middle. Candie kneels in front of the water but as she gets closer to the water she notices it smells of piss and stands up. Candie eventually realises she has no option and with a feeling of disgust she slowly wriggle into the water and after a few attempts retrieves the key by holding the key in her mouth with her tong. Candie then stands and releases her cuffs and hurriedly removes her skirt and rips her shirt off, throwing them on the floor before running back to the house.
The next day Candie is in the room again and reads the instructions for her second dare. Candie is dressed in a smoky coloured semi transparent latex dress and admires how it shows off her curves as she looks at herself in a mirror. Candie builds up her courage before she ventures into the garden for a second time knowing she has to complete the dare or pay a painful forfeit. Candie fastens leather cuffs to her ankles then a spreader bar between and a red ball gag in her mouth. Next Candie handcuffs her hands in front of her and covers her eyes with a red blindfold before she shuffles into a archway for the garden gate that leads to the front of the house and driveway and prepares to padlock her handcuffs to a chain secured to the top of the arch above her. At that moment Candie hears something and suddenly becomes very scared and freezes like a statue then her gardener tries to open the garden gate to collect some wood. When the gardener can not open the gate he walks away but Candie is left so frightened that she could have been discovered she pees herself. After a few minutes Candie releases herself and runs back into the house to face the consciences of failing to complete the dare.
Candie is now tied over a chair in front of the spanking machine with metal clamps on her nipples and the machines control button in her hand. Candie is apologising for not completing the dare before pressing the button and counts out aloud the 100 strokes.
For Candies third dare she has dressed in stockings, a black shiny PVC basque, skirt, jacket and boots. Outside again in her garden Candie fastens a purple ball gag in her mouth then removes her skirt and ties her ankles apart to two hooks that have been fixed into the ground. Candie then removes her jacket to reveal her magnificent DD breasts as she pulls on long PVC gloves then place pegs on each side of her nipples. Finally Candie places a purple blindfold on then handcuffs her wrists to a chain suspended above her so she is bound spread eagle with no escape until her husband returns. Her boyfriend had never left and having a surprise in mind now turns on the hosepipe to give the unsuspecting Candie a prolonged soaking with icy cold water directly from the mains supply that forces her to struggle and scream - Good job she is gagged ! Note: This video is 49 mins in length.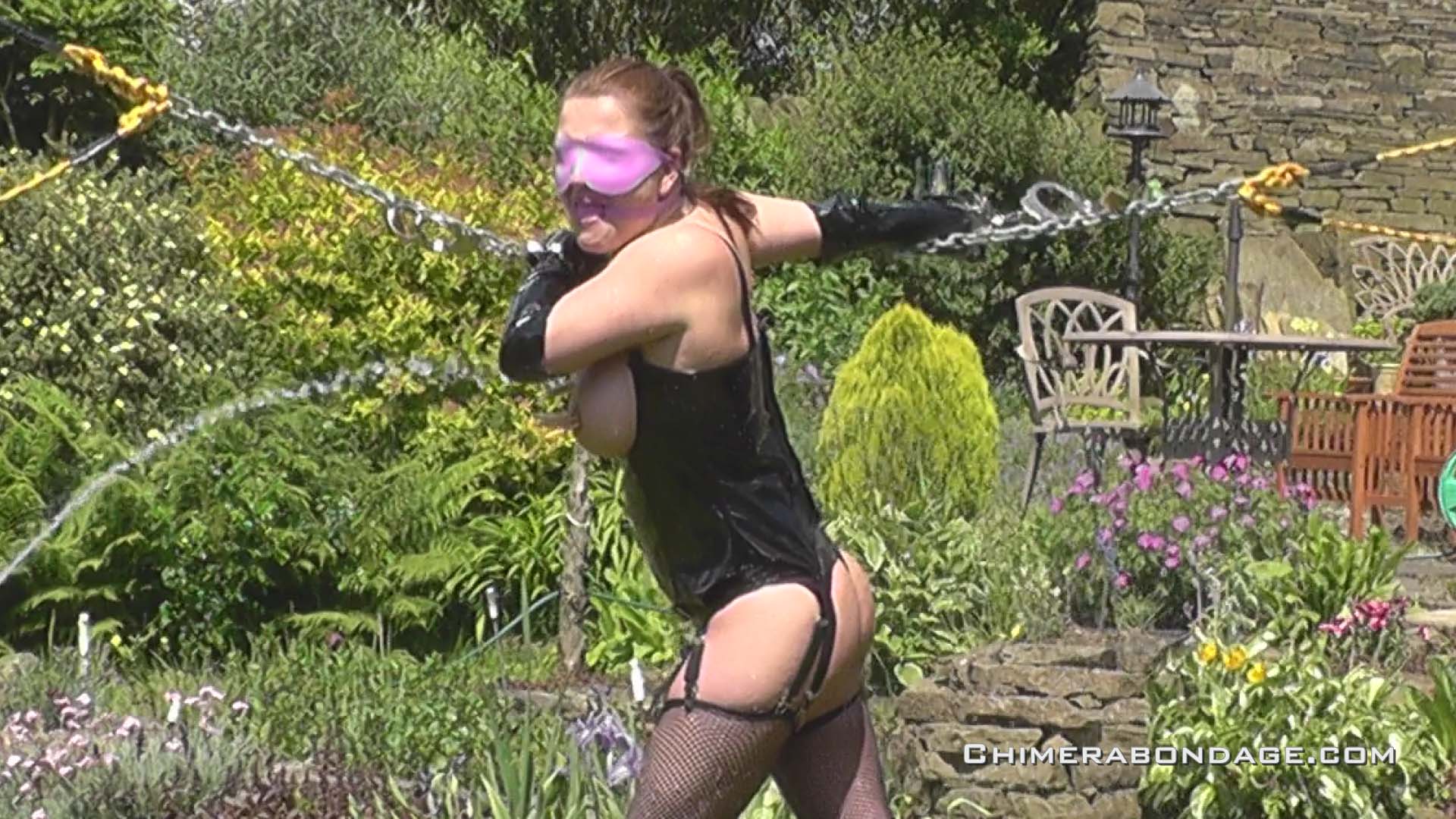 Candie types into her laptop saying "Yes that's the program - sure it is" then secures cuffs onto her ankles and these to an electric hoist before operating her Bluetooth remote to start the program. Candie is raised into the air by her ankles then a trap door opens below her before she is lowered down through and into the room below. As Candie thinks all is well the hoist stops and she is left hanging when she is sprayed with water making her realise she has started the wrong program. Candie struggles to get away from the water but in so doing she become completely soaked so decides to remove her skirt and shirt but leave her pantyhose on. After some time of been suspended up side down and sprayed with water the computer program stops the water and lowers Candie to the floor where she can release herself.