More video trailers can be found on our Updates pages
ChimeraBondage will sometimes tempt you with the unfamiliar and is not a place where you can predict what you will see next. It will intrigue and draw you in with its methods and gadgets until you want more.
Watch our gorgeous wanton girls tie, chain, padlock and handcuff by their own hand then be stimulated and tormented for your viewing pleasure.




Watch Roswell's full trailer in these formats
After dressing in a corset to extenuate her curvaceous body, black panties and stockings Roswell switches on a video camera to record a special video for a very special friend and introduces herself before setting an electronic counter to 100 that's connected to the spanking machine to count down the stokes it administers onto Roswell's bottom. Next Roswell steps onto a wooden plinth and ties her ankles to shackle rings screwed onto the plinth so her legs are kept apart then positions a violet wand onto the front of her panties. Roswell switches on the Violet wand and adjusts its intensity so it becomes a good deterrent to keep her bottom in position and not lean forward away from the spanking machine then she quickly cuffs her hands above her head onto the ends of chains hanging down above her, one of which is connected to an electromagnet for her release when the allotted number of strokes from the spanking machine has been reached. Roswell now takes hold of a remote control and presses its button to activate the spanking machines (one press for each stroke) as she faces the camera and counts every stroke aloud until her punishment is completed and the electromagnet is disengaged so she can release herself.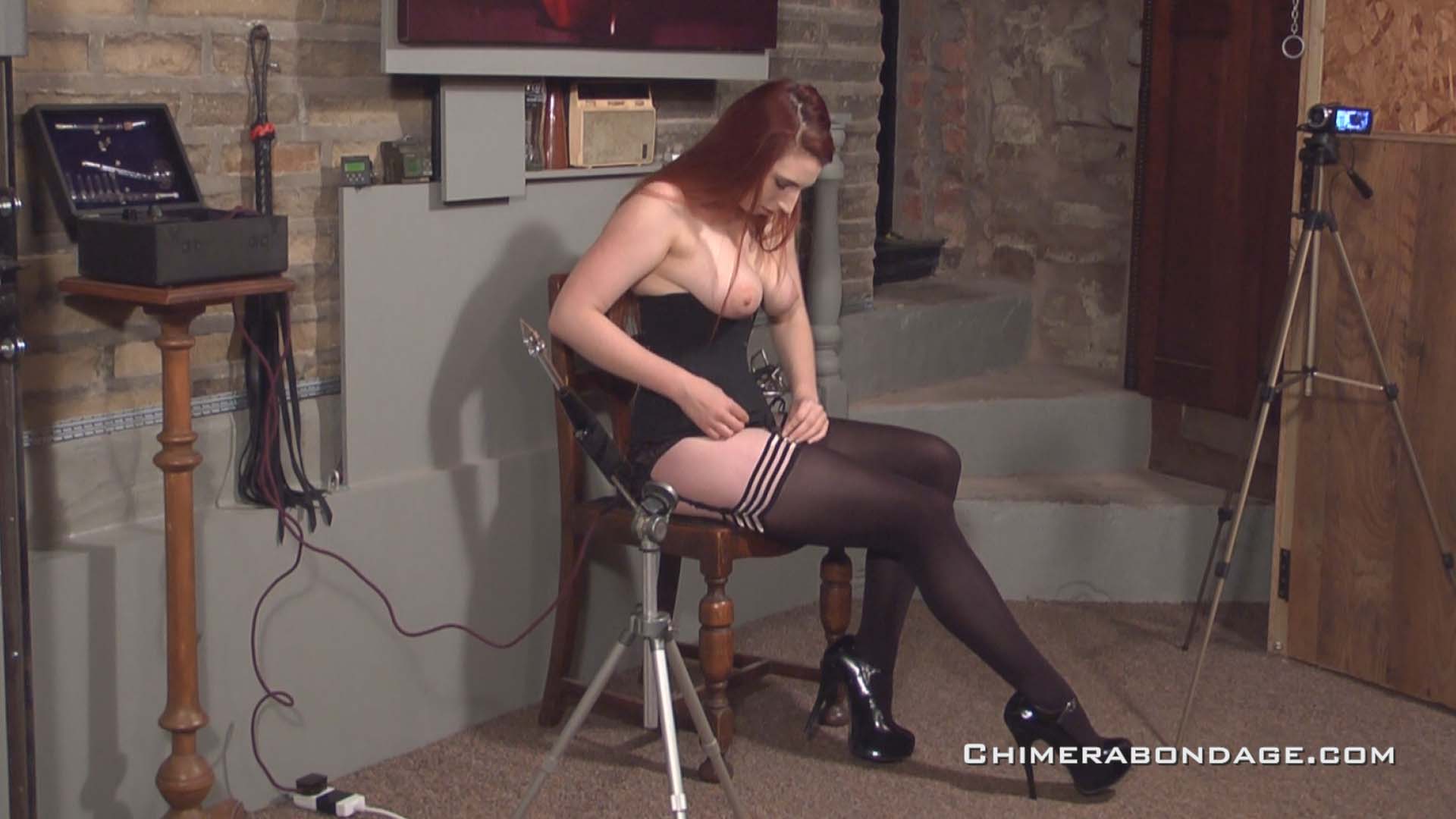 This idea for sent to us for one of our girls to try and Roswell Ivory decided to try it !

Roswell finishes dressing then sets a timer and places a key under low wooden stool before standing on the stool and onto a short wooden pole with a single rope tied to its middle. Roswell then proceeds to place straps around her ankles and above and below her knees with this rope place under the straps so securing the rope to herself. Next Roswell fastens the end of the rope to the hook of a winch using a carabineer and fastens a strap around her waist with a set of handcuffs padlocked to it so the cuffs are behind her back. Then two more straps that go under and above her breasts are fastened followed by a medical type gag in her mouth. Roswell puts her arms behind her back and wriggles a strap up her arms to her elbows then handcuffs her wrists securely. Roswell wriggles in her bindings to off balance's herself and off the wooden stool, that she kicks out of reach so there is no chance of her using it again. Now Roswell is left suspended and wriggling until the timer switched on the winch and lowers Roswell to the floor so she can reach the keys and release herself.


Roswell Ivory hangs her key on the hand of a clock on the wall behind her then she fastens a red ball gag in her mouth before tying a spreader bar between her ankles with clean new white rope and a knotted crotch rope around herself with more of the same white rope then ties her crotch rope to a weight on the floor via a pulley system supported by the hook of a winch in front of her. Next Roswell fastens and padlocks leather cuffs on to each wrist then places the pads of an EMS unit onto the tops of her legs and switches it on so its inbuilt timer begins to count down until the unit switches on fully and gives her a strong pulsing electrical shock if she doesn't escape in time. Roswell padlocks her leather wrist cuffs behind her back and to a metal frame bolted to the wall she is held in place with no chance of escape. Finally with a remote control in her hand she raises the hoist until a weight is raised off the floor and her crotch rope is pulled tight making her shuffle her feet slightly and arch her body then she drops the remote to the floor and out of reach. Now every movement allows the knots of the crotch rope to torment Roswell as she watches the hand of the clock slowly turn and allow the key to drop into her reach, and with the ever present thought that the EMS unit will deliver its strong electrical shocks into the top of her legs making her uncontrollably move and pull the crotch rope deeper, tighter and more painfully between her legs - This is not going to be an easy wait!