Ariel Anderssen's latest full preview video:
Ariel Anderssen is slightly nervous in a dimly lit room. A powerful light illuminates and dazzles her as a number of persons enter the room. One of them asks - Tell us why you would be good for 'The Agency' ? Ariel replies - I love bondage, spanking, flogging… I am a bit of a masochist at heart, and will follow any dare that the dare club, sorry The Agency will give me. A voice informs Ariel that pictures will be taken as she completes the days tests then tells her to face different directions as the first photographs are taken. Ariel is then told to remove her shirt and riding jodhpurs which she reluctantly does then she has more photographs taken before she is told to strip naked. Ariel is shocked but soon realises this is all part of the test and removes her clothing before been told to stand in various positions while even more photographs are taken. Another voice says - You said you are a masochist - You will now prove it. Use the items on the table to chastise various parts of your body - The item and part of your body is entirely up to you but you must use all the implements. Ariel chastises her body with a wooden ruler, paddles, flogger and other devices then places pegs on her body and proceeds to flog herself only pausing to remove one of the pegs, this she obviously enjoys until a voice commands her to stop and stand for more demeaning photographs to be taken.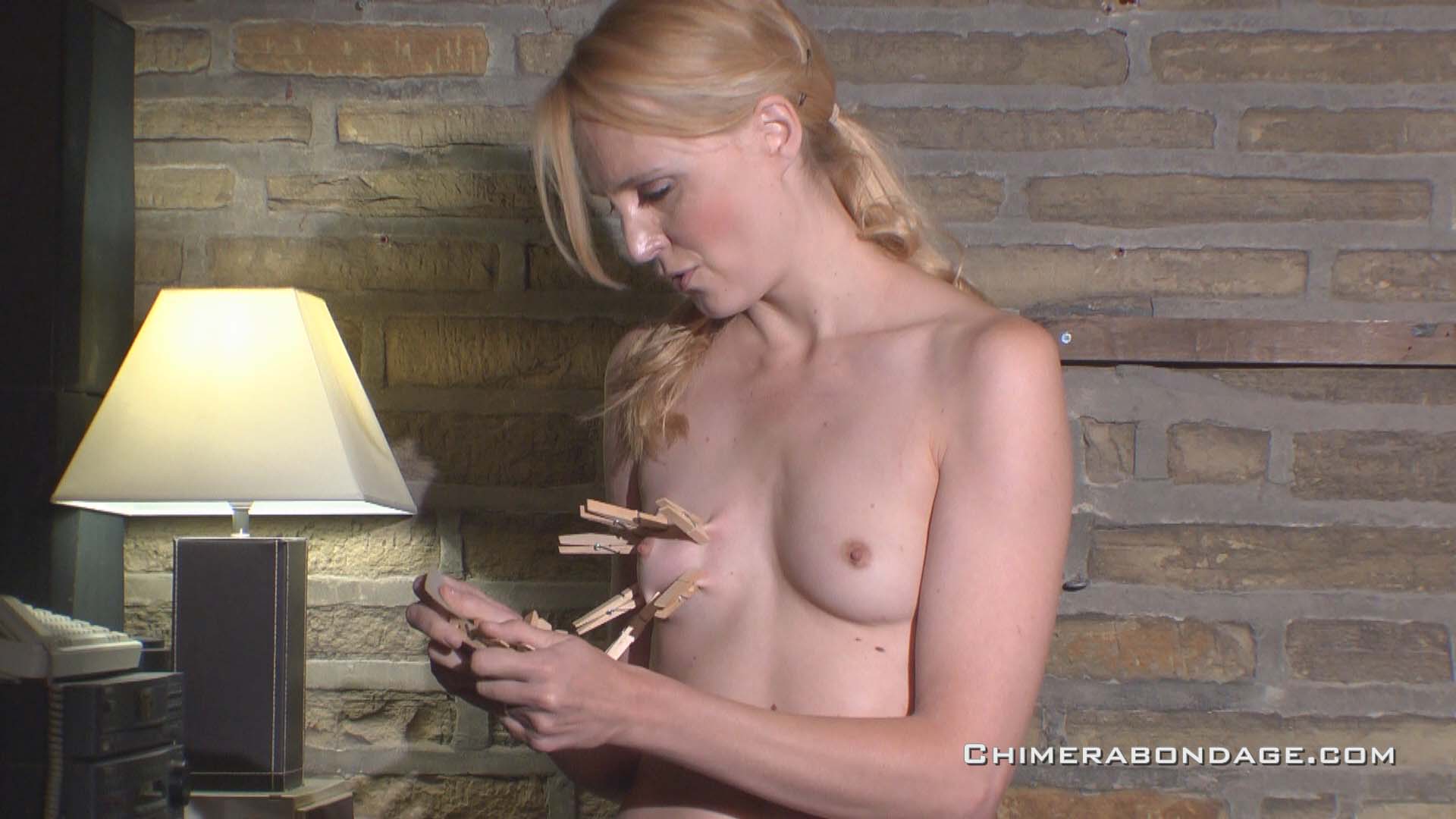 More previews from Ariel Anderssen,s latest scenes will be added here over the next few weeks.
Ariel Anderssen stands with her hands behind her head naked except for her stockings and awaits the start of her next test. Ariel doesn't have to wait long and begins by playing roulette to find out hoe many balls will be used to activate the spanking machine as the roll around a roller coaster game, and to her dismay she will have to use the maximum of four balls which she loads onto the coaster game. Next Ariel sits on the spanking table and ties her legs and ankles together and a crotch rope around herself then lays flat on the table to tie her waist to it. Ariel now attaches the end of the rope from an electric winch to her ankle rope and raises her legs into the air, making her bottom a perfect target. After fastening leather cuffs onto each wrist Ariel pulls the end of her crotch rope tight under the table and ties it off so that she is now unable to raise her bottom away from the spanking machine. Ariel attaches the ends of two chains to her wrist cuff and presses a button on her remote control so her arms are pulled up behind her head with a satisfying rattle of the chains as they pass though metal rings and up to a second winch. Ariel's final task is to press the last button on her remote control to activate the spanking machine and unbeknown to her a device to drip hot molten wax onto her breasts. After a good spanking and waxing Ariel is released and made to stand and display her bottom and waxed breasts in a most degrading manor to the committee of The Agency (dare club) while photographs are taken.